Ask users for…
Relationship to Veteran
Use: Deployed
Follow this pattern to ask a user for their relationship to the Veteran.
Usage
When to use this pattern
Asking for the relationship to the Veteran. For example, when a caregiver is filling out a form.
Examples
Relationship to Veteran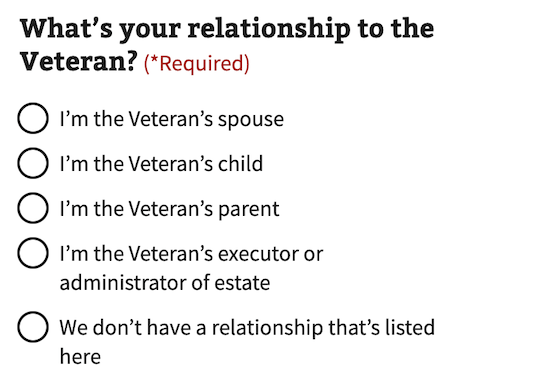 How to design and build
How this pattern works
Use either a drop down or radio buttons. Options should include spouse, child, parent, executor/administrator of estate or other.
Provide a way to give a 'None of the above' answer. A radio button labeled "Other" should be provided.
Error message templates for addresses
When a user doesn't select a relationship:
Say "Please select your relationship to the Veteran"